dog and cat food making machine extruder
1.Technology: Xilang cat feed production line adopts advanced twin screw extrusion technology, reasonable design, high degree of automation, stable performance, easy operation.
2.Product: novel shape, unique taste, rich nutrition, easy to digest, more suitable for pet food needs.
3.Selection: The pet food production line output: 140-160kg/h,240-260kg/h,500-600kg/h can be reasonably configured according to customer needs.
1.Brief introduction of dog and cat food making machine extruder
Xilang dog and cat food making machine extruder is developed based on extrusion technology.
The main machine twin screw extruder can efficiently mix various ingredients such as cereal, soybean meal, animal meal, fresh meat, fat, nutrients, protein, vitamins, starch and wet fish residue. Can produce more consistent products and more diverse product
2.The technical specification of dog and cat food making machine extruder
| | | | | | |
| --- | --- | --- | --- | --- | --- |
| Model | 65twin screw extruder line(dry type) | 70 twin screw extruder line(dry type) | 85 twin screw extruder line | 75 twin screw extruder line | 95twin screw extruder line |
| Main machine power | 22kw | 30kw | 37/45 | 55/75 | 90/110 |
| Drying type | gas/electric | gas/electric | gas/electric/steam | gas/electric/steam | gas/electric/steam |
| Production capacity | 120-150kg/h | 150-180kg/h | 350-500kg/h | 450-600kg/h | 1000-1200kg/h |
| Appearance size | 12000x4000x2200mm | 13500x4000x2200mm | 16500x4000x3200mm | 18500x4000x3200mm | 21000x4000x3200mm |
3.The flow chart of dog and cat food making machine extruder
Raw material preparation→mixing→conveying→extrusion→conveying→drying→oil spraying→flavoring→cooling→screening→packaging

4.The composition of dog and cat food making machine extruder: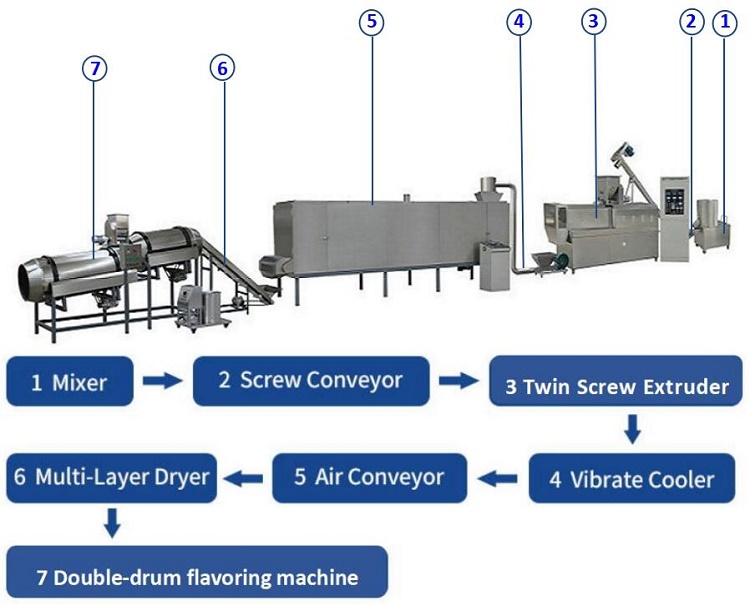 1. Mixer:add a certain proportion of water to the raw materials such as corn flour, rice flour, soybean flour, meat flour, cereal flour, additives, etc., and mix well.
2. Feeding machine: The motor is used for screw conveying, and the mixed raw materials are conveyed to the feeding hopper of the extruder to ensure convenient and fast feeding.
3. Twin-screw extruder: Under the conditions of high temperature and high pressure environment and screw extrusion,it could produce different feed by adjusting the production process. The specific particle size and shape can be changed.
4. Vibrating screen: sieve out the excess sprinkled materials and particles to ensure quality while reusing of raw materials.
5. Air Conveyor: transporting the feed to the oven,
6. Multi-layer ovens: most ovens are electric ovens. The temperature is adjusted by the control cabinet between 0-200 degrees. The inside is a stainless steel double-layer mesh bag to reduce the moisture of feed particles, promote the maturation rate and increase the shelf life.
7. Flavoring line: the oil sprayer sprays oil, phagostimulants and so on. The flavoring tube includes octagonal tube, cylinder, lifting single drum, double drum flavoring line.Spraying the grease on the feed surface according to the output and product nature configuration.Meanwhile,it spray minced meat and spices evenly.
8. Cooling and conveying: reduce the temperature of frying and feed, promote the solidification of fat, reduce the temperature of particles, and facilitate packaging.
5.Main Extruder Features of dog and cat food making machine extruder:

Twin Screw Extruder:

1)Pure copper motor, low heat, sufficient power and stable performance
2)The control cabinet adopts a visual automatic temperature control system, the temperature of each zone can be adjusted separately, the temperature control is intuitive, and the parameters are accurate
3)Double spiral in the same direction, controlled by a separate control cabinet
4)The screw is made of high wear-resistant materials with hardness above HRC55 and has a long service life
5)International brand power supply devices, strong stability, can run continuously for more than 700 hours
6.Packing and Shipping
Packaging:
daub coal oil on the surface to protect the machine from moisture, Then cover with plastic film. Finally pack them with wooden case.

Transportation cost:
by ship-please tell me your delivery port; by air-please tell me your airport name; by express-please tell me your detailed address(including zip code, house number, street, city, country).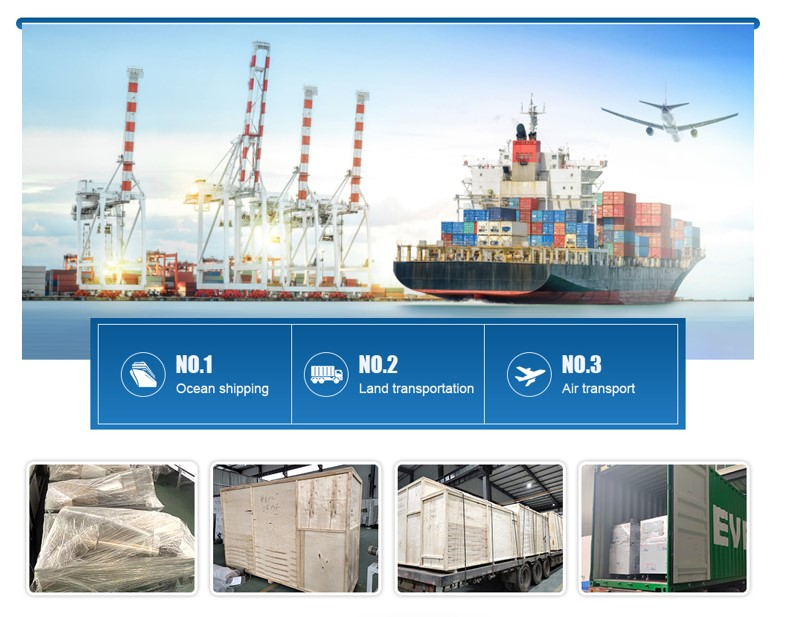 7.Certificates and Projects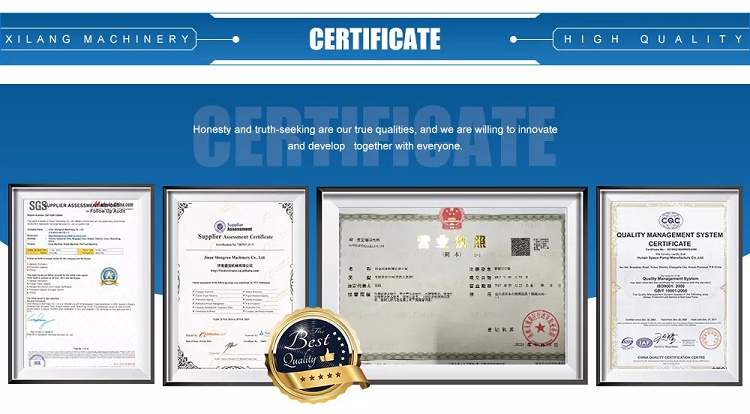 8.Company Profiles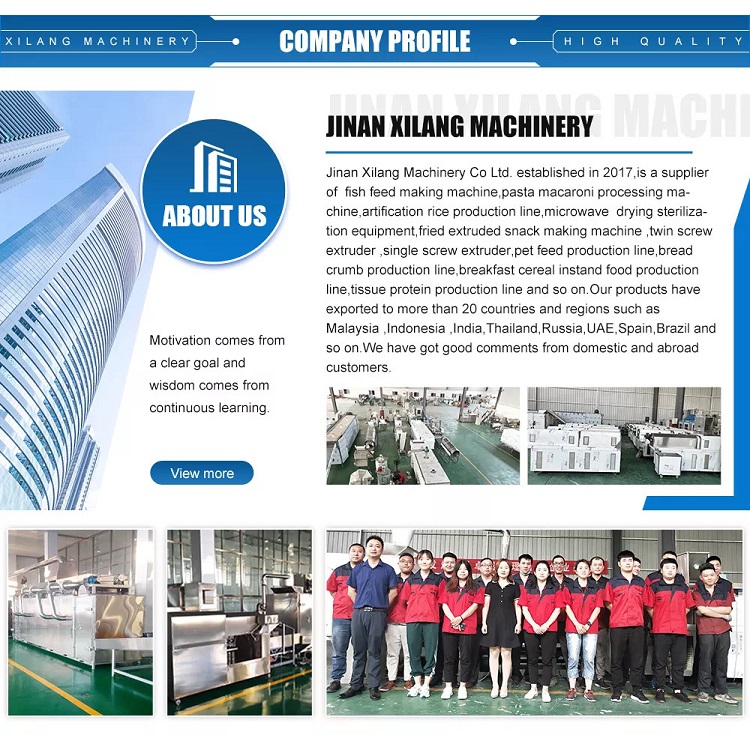 Get the latest price? We'll respond as soon as possible(within 12 hours)