puffed floating fish feed making machine
Brand :Xilang
Product origin :Jinan
Delivery time :15days
Supply capacity :20 units per month
1.Double screw extrusion technology to produce pet food, can retain the nutrition ingredients in the formula raw materials, easy to digest and absorb, the formula shape is easy to change;
2.Optimized configuration of the whole assembly line, high degree of automation, precise control of the production process, stable product quality, high production efficiency, health and environmental protection;
1.Brief introduction of puffed floating fish feed making machine
Xilang puffed floating fish feed making machine, adopts advanced twin-screw extrusion technology, the main extruder machine consisted by the feeding system, extruding system, rotary cutting system, heating system, transmission system, control system.Changing the production process formula can produce a variety of specifications of fish feed products,with protein content of 25%-45%.
2.The technical specification of puffed floating fish feed making machine

XL65 -III

XL70 -II

XL70 -IV

XL75 -III

XL95 -III

Type

dry

dry

wet

wet

wet

Main power

Consumption/Installed

22KW/30KW

30KW/40KW

37KW/45KW

55KW/75KW

90KW/110KW

Capacity

120-150kg/h

150-180kg/h

300-400kg/h

600-800kg/h

1000-1200kg/h

Size(m)

12x4x2.2m

13.5x4x2.2m

16.5x4x3.2m

18.5x4x3.2m

21x4x3.2m
3.The flow chart of puffed floating fish feed making machine
Raw material---Mixing---Screw Conveying---Extruding---Air Conveying---Drying---Air Conveying---Flavoring---Cooling

4.Equipments list of puffed floating fish feed making machine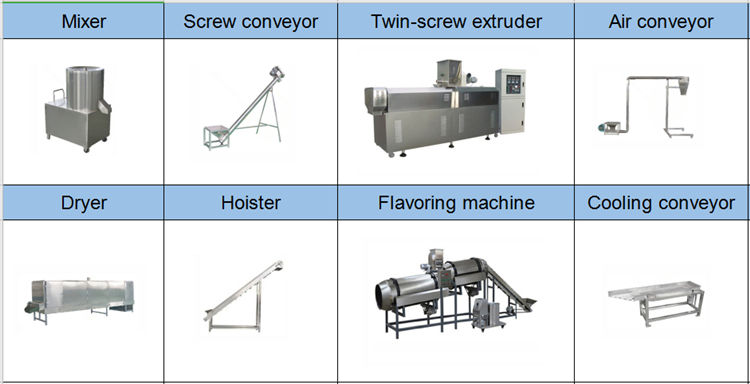 5.The composition of puffed floating fish feed making machine
Machine Name

Technical Parameters

Function

1

Mixer

BFJ-I

Dimension(m): 0.9×0.5×1.1

Power: 3KW

Mixing the raw material and other additives fully.

2

Screw conveyor

LXSL-I

Dimension(m): 3.2×0.6×0.7

Power: 1.1KW

Screw turns to make the raw material convey

in the sealed tube,no leaking and no pollution

3

Twin screw Extruder

XL85- III

Dimension(m): 2.5×0.9×1.2

Power:36KW

Materials are extruded and cut and mixed by screw in the machine barrel. The material is fully matured under high temperature and pressure, through the outlet mold expansion, form foods of various shapes.

4

Air Conveyor

FSJ- 1.1

Dimension(m): 1.1×0.6×0.5

Power: 1.1KW

1.conveys the food relying on the wind-force from the blower

5

Dryer

KX-5-5D

Dimension(m): 5.4×1.3×1.8

Power:37.5KW

1.Used to bake and dry food

2.Net belt running speed can be controlled

and change the food drying time in the dryer.

3.Heating adopts the electric heat tube

6

Cooling conveyor

LQ-5

Dimension(m): 5×0.5×0.9

Power:37.5KW

1.used to cool the food with fans on the belt.

2.The total length of the conveyor is 5 meters. It is full set stainless steel.

3.The height can be adjusted based on the requirement
6.Main extruder features
Dry process equipment:
1. High-strength cabinet, good stability
2. The screw material is alloy material, twin screw, easy to clean
3. Rotary cutting adopts straight cutting, easy to adjust the cutter head
4. Siemens main motor, good quality and long service life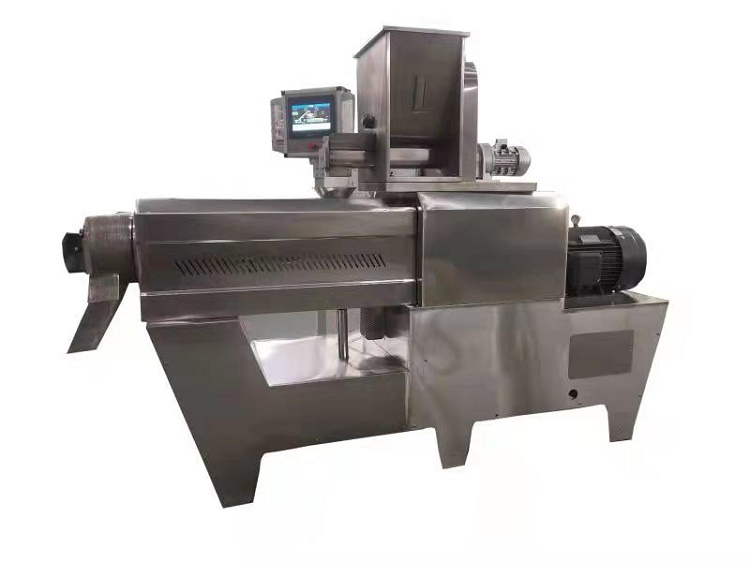 wet type equipment
1. Cantilever rotary cutting, suitable for large output, quick tool setting, and more convenient adjustment
2. Reinforced high-torque new cabinet, with water cooling and filter, cabinet material QT400, aging treatment, good stability
3. The barrel is made of No. 45 steel with wear-resistant bushings, which has a long service life and low replacement cost
4. The modulator can increase the protein content, increase the output of the same model, and the blades can be adjusted for easy
cleaning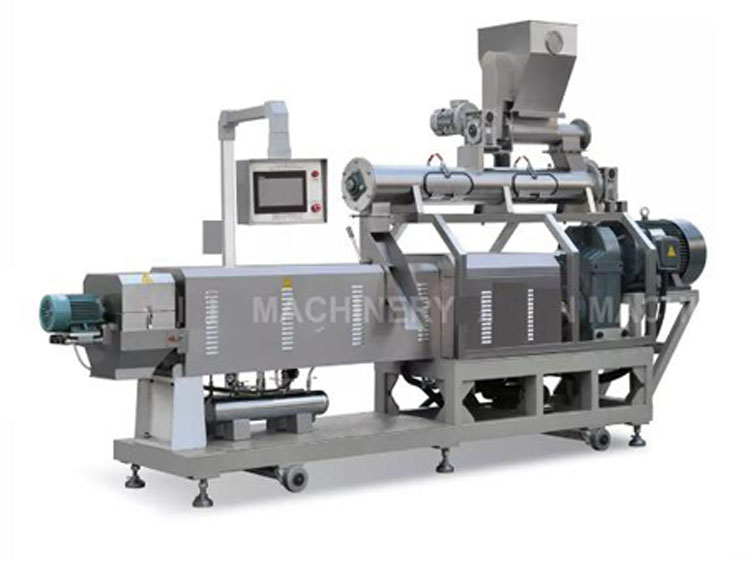 7.Packing and Shipping

Packaging:
daub coal oil on the surface to protect the machine from moisture, Then cover with plastic film. Finally pack them with wooden case.
Transportation cost:
by ship-please tell me your delivery port; by air-please tell me your airport name; by express-please tell me your detailed address(including zip code, house number, street, city, country).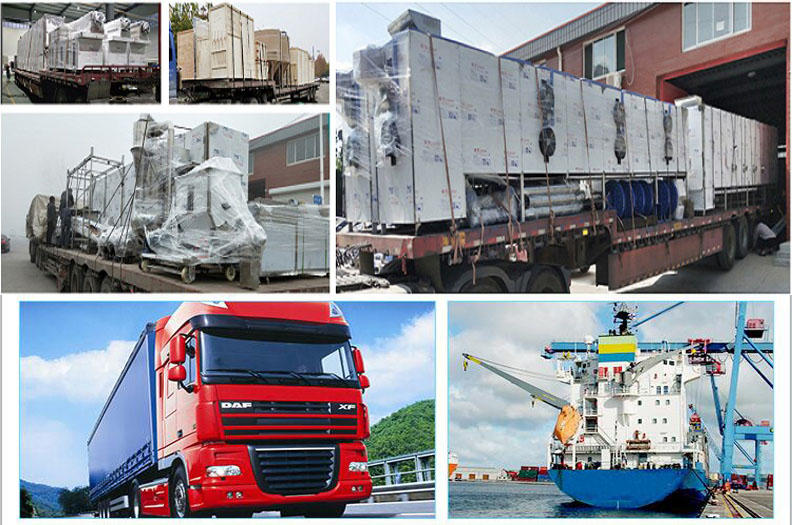 8.Certificates and Projects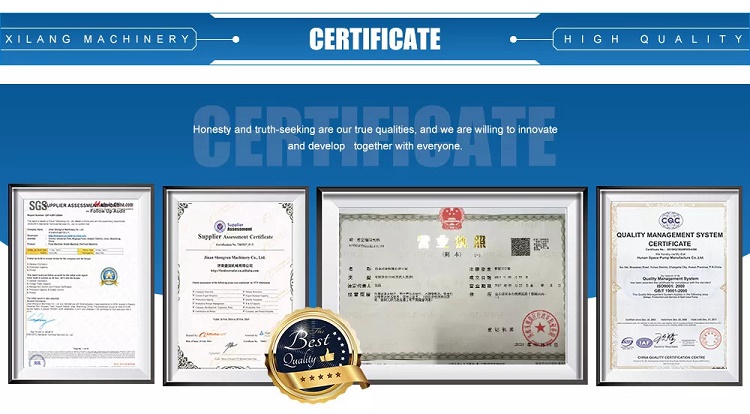 9.Company Profile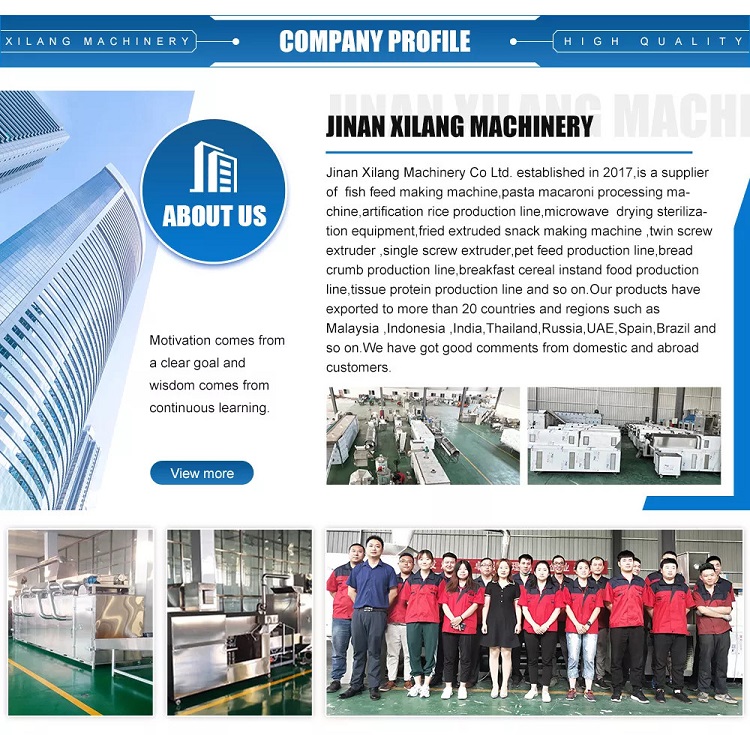 Get the latest price? We'll respond as soon as possible(within 12 hours)